USEFUL LINKS
RSN Trained
Tracy A. Franklin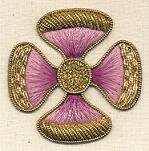 Tracy A. Franklin is a freelance Specialist Traditional Embroiderer, working and living in County Durham. She teaches all aspects of traditional embroidery nationwide including gold work.
She sells specialist threads, is the author of 'New Ideas in Goldwork' published by BT Batsford Ltd, and works on commissions for private customers, magazines and other publications.
Tracy teac hes the Northeast version of the Royal School of Needlework certificated course from Coats Crafts UK, Darlington and has started a second course in Durham City from her studio in Fowlers Yard, Back Silver Street. Her studio is open to the general public where she generally works and runs other workshops.
Guilds
Embroiderers Guild
Founded in 1906, the Embroiderers ' Guild was created to represent the interests of contemporary creative embroiderers. This self-funding educational charity and registered museum hosts a textile collection of more than 11,000 items, promotes embroidery and provides access to its resources and skills for the benefit of the community, through its 236 Branches with membership open to all.
Cross Stitch Guild
Magazines
Classic Stitches Magazine

Classic Stitches Magazine's web site that has everything a stitcher could want! There is a huge range of free charts for you to download, a library of illustrated stitches, know how guides, features, competitions and a comprehensive shop for all your stitching needs.
In addition, a new selection of online classes is now available, offering the chance to learn a new technique and stitch beautiful projects from the comfort of your own home.
Selvedge: The Fabric of Your Life
Bi monthly publication covering textiles in fine art, fashion, interiors, travel and shopping.
Tel:
Shops
HobbyCraft
Visit us for activities, ideas and inspiration. You'll find directions on how to get to your local HobbyCraft superstore, a monthly list of craft events happening in each store and 100's of project ideas and useful craft techniques. Plus, details of our latest best buys, special offers and competitions. Add us to your favourites and register for our free e-newsletter Crafty News.
Sponsors
The Clothworkers' Foundation


www.clothworkers.co.uk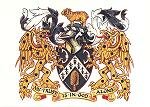 Founded in 1977, The Clothworkers' Foundation is the independent charitable arm of The Clothworkers' Company, one of the Great Twelve Livery Companies of the City of London. The Foundation has wide-ranging aims, seeking to improve the quality of life, particularly for people and communities that face disadvantage. It also supports educational and heritage projects, with a particular interest in those focusing on textiles.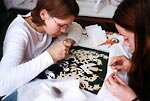 The Foundation has been proud to support the work of The Royal School of Needlework for over 40 years and funds the Apprenticeship Scheme each year.
Overseas
Tristan Brooks, USA
www.tristanbrooks.com
Tristan Brooks Designs was established in 1982 by Barbara Jackson. It reflects Barbara's love for 16th through 18th century design. Tristan Brooks first specialized in counted thread designs, later expanding into silk and crewel embroidery.
Country Bumpkin Publications, AUSTRALIA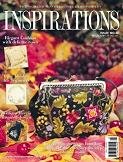 Country Bumpkin is an independent craft publisher, based in Adelaide, Australia.
As you can see from their website, their list is largely craft orientated and is put together with a very high standard of production. They produce books that are both beautiful to look at and which are edited by specialists and are perfect for novices as well as specialists.
Country Bumpkin focus on Embroidery and Smocking titles as well as quilting and sewing. They also produce two magazines, Classic Inspirations and Australian Smocking and Embroidery which are quarterly.
General
www.embroideredknotgardens.com

Visit this website to learn more about the new publication "Embroidered Knot Gardens" and to find further information regarding courses, suppliers and inspirational gardens.
Hampton Court Palace
The RSN is based within Hampton Court Palace, so you could (for example) combine your tour of the RSN with a tour or visit to the Palace.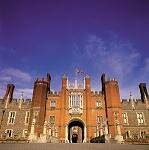 Set in 60 acres of beautiful gardens, Hampton Court Palace is one of the world's finest royal palaces. Take a fascinating journey through 500 years of royal history and discover what it was really like to live and work at the palace. Hear tales of the royal court told by expert guides in historical costume. Discover the magnificent State Apartments of Henry VIII and William III, explore the immaculate riverside gardens and lose yourself in the world-famous maze.
Tel: 0870 752 7777
Fine Cell Work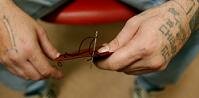 www.finecellwork.co.uk
Fine Cell Work is a Registered Charity that teaches needlework to prison inmates and sells their products. The prisoners do the work when they are locked in their cells, and the earnings give them hope, skills and independence.

The inmates are all taught by volunteers from the Embroiderers Guild, the Royal School of Needlework and the world of professional design. Once trained, they can be responsible for difficult commissions done to deadlines, and support other inmates who are still learning.

The Arts & Crafts Home
The Arts & Crafts Home have the largest collection of Arts & Crafts period and replica fabrics, and Arts & Crafts and William Morris curtains available in the world. We are happy to help with any aspect of decoration and furnishing relating to the Arts & Crafts Movement.
CraftDirectory.org
CraftDirectory.org is one of the largest directories for Arts and Craft enthusiasts on the Internet. They have 24,000 links in more than 900 categories.
House of Smocking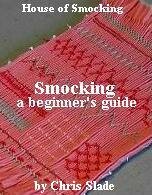 House of Smocking was established by Chris Slade in 1986 to meet the needs of Smocking. Chris offers Smocking Classes and a Mail Order Service, specialising in Smocking supplies, including a DVD or Video entitled Smocking – a beginner's guide.
Includes family resource, family friendly vacation, search engine, lawyer, parents, home and garden, lifestyles, shopping, travel, games, travel, health and more.
searchartdirectory.com
SearchArtDirctory.com is a valuable reference for artists, students and collectors interested in artists, painting, galleries, the performing arts, magazine caricature, drawing, sculpture, photography, visual art, art shopping, music and more.
Gifts
gregoryonline.co.uk
Gregory & Co: Jewellery, rings, pendants, gold gifts, perals, platinum, silver necklace, bangles.
Antiques
elisabethjamesantiques.co.uk
Elizabeth James antiques based in Bedfordshire provides quality antiques, clocks, tables, paintings, chairs, porcelain vases, cabinet furniture, fireplaces, chandeliers and cut glass.
cleallantiques.co.uk
Supply Trade and private clients, interior decorators, designers and overseas buyers.