Supporting the Royal School of Needlework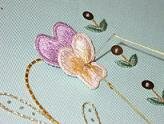 Many are surprised to learn that the Royal School of Needlework is a registered charity (Registered Charity No. 312774) and that we receive no statutory funding. We are therefore completely dependent upon the generosity of donors, our Friends' membership organisation and the many trusts and livery companies that loyally support our work. Such funds are vital for us to finance the Royal School of Needlework Apprenticeship as in keeping with the traditions of the old Guild system we pay our Apprentices a small monthly allowance. This ensures that we continue to train the most talented students and that no one with talent is turned away because of financial pressure. Added to the Apprenticeship training costs are rent and salaries for administration staff, the cost of maintaining the Collections and Archive and supporting the Classes and Courses programme.
How can I help?
There are a number of ways in which you can show your support for the RSN and some are listed below:-
1. Send a donation – and don't forget to Gift Aid it if possible.
2. Become a Friend and receive regular information about the RSN
3. Volunteer to hold a sewing session or coffee morning with friends and raise funds for the RSN
4. Visit our on-line shop to purchase your needlework accessories and gifts.
5. Book on to one of our classes - there's something for everyone from novice to expert.
6. Consider leaving a legacy in your Will.
Occasionally we are fortunate enough to receive gifts of embroideries for our Textile Collections. If you are considering doing this then please contact our Curator, Eva Hansson, first to discuss the details. We would also ask that you consider including a sum in your Will to help us to ensure that your embroidery can be cared for in the years to come.
Fundraiser
Donations may be sent to the RSN or made by MasterCard or Visa credit cards over the phone. Please remember to Gift Aid your donation wherever possible (see below for full Gift Aid information).
Gift Aid
Over many years as Friends of the Royal School of Needlework you have, through your continuing interest in the craft and your generosity, provided important financial support to enable the School of continue its tradition in providing Apprentice training.
Thanks to changes in the laws of this country, the School can now enhance this existing financial support by utilising the Inland Revenue Gift Aid Scheme and to that end we will now be able to formalise the position and set a Scheme in motion for the School.
What does Gift Aid mean?
Gift Aid is a Scheme by which any person who is a UK Resident and who makes a donation to a Registered Charity, like the Royal School, can by simple declaration enable the Charity to recover Income Tax from the Government on that donation. (The only proviso is that the person who makes that donation must have paid taxes on income or capital gains equal to the tax reclaimed by the School).
How does Gift Aid affect me, the Donor?
It does not affect you at all, as long as you have paid or have had deducted tax as previously mentioned. However if you are a higher rate taxpayer then you will be able to claim further tax relief on the difference between basic rate and higher rate income tax. All that has to be done is for you to complete a declaration form.
If you would like to make use of the Gift Aid Scheme from now on, or for further information on any of the points above, please contact